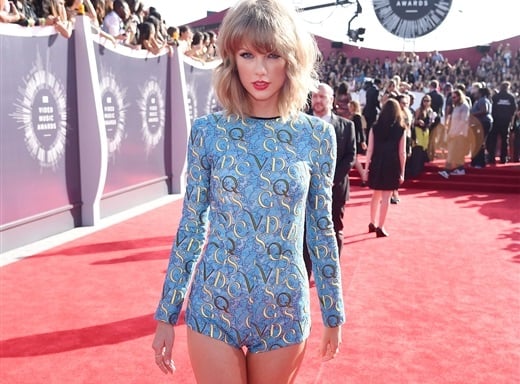 ---
The 2014 MTV Video Music Awards were held in Inglewood, CA last night, and the stage was set for an epic battle for the most coveted prize in pop music… to be named the biggest whore at the VMAs
Yes every year pop stars gather at the MTV VMAs to square off and see who can be the biggest whore and grab the headlines for the next news cycle. With past luminaries like Miley Cyrus, Katy Perry, and Selena Gomez in attendance the 2014 VMAs was on track to be one of the raunchiest in years. However, it was a group of dark horses, namely Ariana Grande, Taylor Swift, and Victoria Justice which stole the show. Perhaps this signals a changing of the guard in terms of wanton Jezebels in pop music.
The 2nd runner-up at this years VMAs was none other than former Nickelodeon star Victoria Justice. As you can see in the photos below, Victoria looks like quite the street walking skank in her ridiculous short skirt (made out of garbage bags) and a cropped strapless top. However, one can not help but feel that this isn't Victoria's best effort, as the back of her skirt is far too long, and she didn't even come close to slipping a nipple.
The runner-up in the whore off at this year's MTV VMAs was none other than Victoria's old castmate on Nickelodeon, Ariana Grande. While Ariana's boots certainly convey that she likes to f*ck strangers in the men's bathroom, her overall outfit lacks originality. Why if she was just wearing some assless chaps it would be the same outfit that the typical American male wears when he sneaks off to get pounded at the glory hole.
Luckily for Ariana she made up for her lack of originality by ogling some girl's tits on the red carpet, and looking like a dirty slut in her leotards during her performance.
Finally we get to the winner of this year's MTV VMAs, and who else could it be besides one of the most degenerate sluts in the music industry today… Taylor Swift. With the release of her new pop album looming, Taylor knew that now was the opportune time to really whore it up to get attention, and she definitely delivered.
As you can see in the photos below, Taylor wore some sort of ill-fitting romper made from a couch cushion that shows off her long legs, tiny ass, and swollen vaginal mound. A sickening sight to be sure, but one that will no doubt have the depraved infidel masses talking for days.