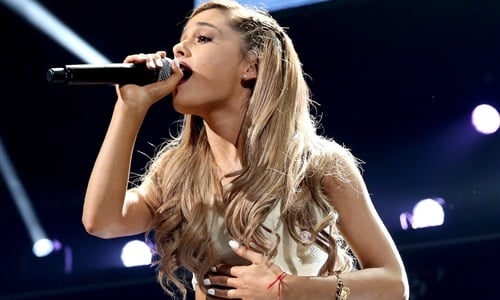 ---
Ariana Grande thrills her fanbase, composed almost entirely of middle-aged Japanese businessmen and Victorian Englishmen, by flashing her lace petticoat in a babydoll dress while performing at "Jingle Ball 2013" last night.
As you can see in the photos below, Ariana Grande's performance was chock-full of sexual innuendo as she feels up her tit and tries to fellate the microphone.
Ariana Grande is wise to try and cash in now on her kewpie doll looks with this slutty yet suggestively young outfit and performance. For Ariana can only take so many celestials' loads to her face, before she begins to look weathered and drawn.