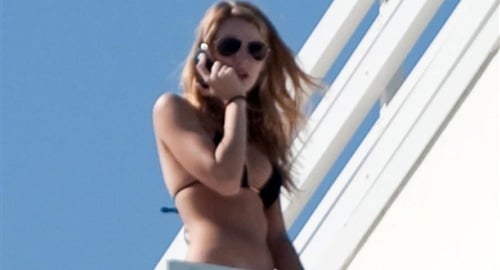 ---
Blake Lively the star of the CW show "Gossip Girl" was caught looking down girls' shirts in her bikini in Miami this weekend.
Lively was photographed out on her hotel balcony pretending to talk on her cell phone, so she could look out over the side and see down busty women's tops. This is the oldest trick in the book and one I have personally implemented numerous times with great success. What Blake fails to realize though is that she is a busty woman herself. She could easy look at and in fact fondle her own lushes breasts to her heart's content. She doesn't need to go perving on a balcony! Sadly like most women Blake is too stupid to realize this.
If Blake wants to not get busted next time she goes peeping on girls from a balcony she should try wearing something less conspicuous than a black bikini. I suggest a trench coat, aviators, and a Dick Tracy type hat from the 1930's. That way if anyone sees her peeping they'll assume she is a detective trying to crack the big case.