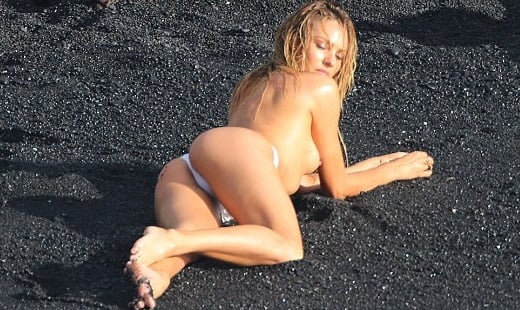 ---
Victoria's Secret model Candice Swanepoel goes topless on the beach in Hawaii for her latest photo shoot in these behind the scenes pics.
As you can see in the photos below, someone (almost certainly a Jew) censored Candice Swanepoel's nipples (except they missed this one) in these pics. This censorship speaks volumes about the moral midgetry of the Western world. For Western society acknowledges that a woman's areola are sinful and must be hidden away at all times, yet women like Candice Swanepoel are allowed to expose their naked torso, taut ass, and vaginal lips through tight white bikini bottoms with impunity.
What an arbitrary and irrational stance to take to say that a woman's nipples must be covered, but it is fine to show the rest of her shameful body. Either everything about a woman's figure is immoral and offensive, or none of it is. Looking at the Candice Swanepoel pics I think it is pretty what the answer is… those black boxes should be much bigger.