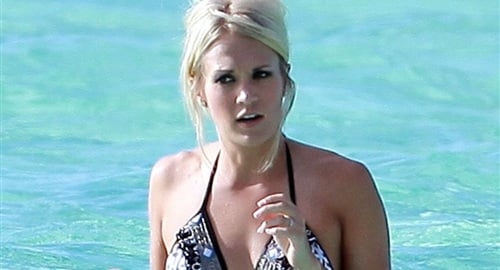 ---
The dowry goat's milk is still fresh and already Carrie Underwood has disgraced her new husband Mike Fisher.
Carrie Underwood was photographed frolicking in the ocean like a complete and utter whore. Doesn't Carrie Underwood realize she is married now? Her days of splashing around in water should be over.
When Mike Fisher bought Carrie Underwood from the male elders of her clan I am sure he was expecting to get a proper wife. A woman who was reserved and attentive. A woman who waits at her husband's foot ready to give out blowjobs and sandwiches on command.
I'm sorry to say it but I think Mike Fisher got a lemon with Carrie Underwood, and he should return her immediately. She has already disgraced him with these photos of her wearing a bikini and splashing in the ocean, and I can not help but feel this is just the beginning of her whorish acting out.