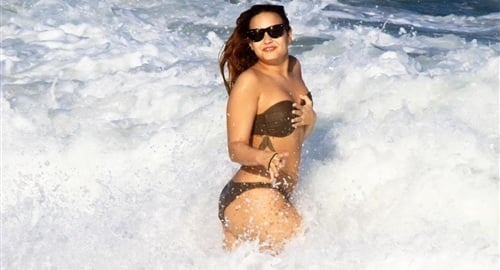 ---
Former Disney star, mental patient, and Selena Gomez girlfriend, Demi Lovato was photographed looking fat in the bikini pics below.
Reportedly Demi Lovato is recovering from an eating disorder. Unfortunately she has either recovered too well or her new girlfriend's pussy is made of chocolate, as she is shamefully overweight.
Demi Lovato showing off her flabby body while she rubs tits with her dyke girlfriend in the bikini pics below is an affront to Islam and the ocean. It is no wonder that the ocean appears to be trying to violently eject Demi as it already has enough large bodies in it that stink like fish… they are called whales.