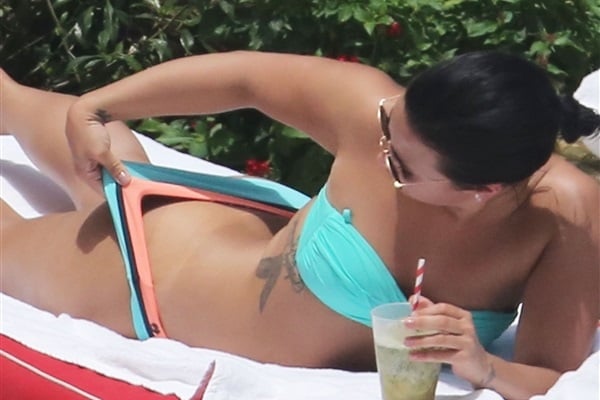 ---
Demi Lovato tans her fat ass while laying by a pool in a bikini in the sickening photos below.
Demi better be careful because if she tans her hide for too long some Texan is going to mistake her for one of his steers, and then skin her and turn her into boots. Us Muslims liked Demi better back in her Disney days when the only meal she didn't throw up after was when she would munch on her girlfriend Selena Gomez's lady taco… and we hated her back then.
Yes seeing Demi Lovato adjusting her bikini around her blubbery bottom reminds us just how much we despise this portly skank. It will certainly be a glorious day when Demi is finally brought to Sharia justice, and our righteous stones pelt her body causing her flabby flesh to undulate while she collapses into a giant heap in the sand… For we could not miss this tubby tramp if we tried.