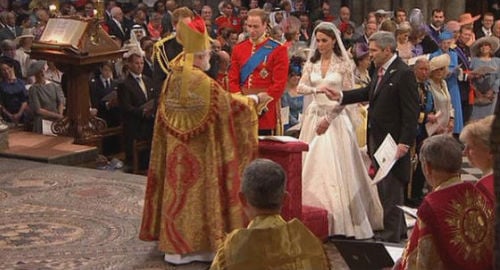 ---
The future King of England has already dug himself a royal hole by giving into the lascivious desires of his first wife, Kate Middleton.
Prince William decided not to sign a prenuptial agreement before their wedding, effectively sealing his demise and further proving that he is a weak man undeserving of Allah's love.
As evidenced by Kate's lack of a burka and her tendency to wear skirts that come well above her ankles, there is no denying that she is one money hungry floozy (and I have met my fair share).
Patrick Jephson, who was Princess Diana's former private secretary, stated, "If [Kate] was my sister, I'd tell her to get a good prenup. Kate's not just going into a marriage, she's going into a business."
In spite of his ties to the notorious whore Diana, we agree with what the British enemy says. After all, what's a marriage if not for the business of populating the world with more loyal jihadists?
Without a prenup both Kate and William have left themselves dangerously exposed. For instance if Kate fails to provide a male heir and William has to dispose of her, they are both going to be kicking themselves for not having the manner of her disposal in writing as it can get quite messy. Allahu Akbar!