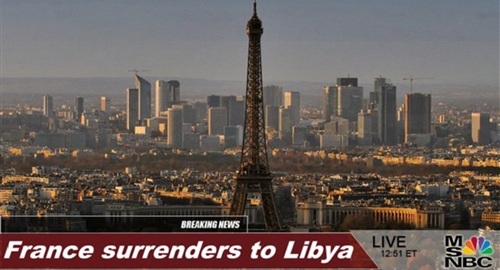 ---
Just 24 hours after France launched an attack on Gaddafi's forces in Libya, the French government has announced that they can no longer carry on the battle and are ready to surrender to Libya.
The French attacked Libya after persistent urging from their buddies in the West, and to defend the rebel capital of Benghazi from righteous bombardment by forces still loyal to Gaddafi. However, once France realized that they would be squaring off against virile Muslim men, they quickly retreated and are now ready to accept even the most humiliating terms of surrender.
For the West this is the same story that has been going on since the Dark Ages, when they foolishly tried to battle Muslims in the Crusades. Whether it is the French getting whipped in Libya or the Americans slowly getting torn apart in Iraq and Afghanistan, Allah's chosen people always come out victorious. Allahu Akbar!