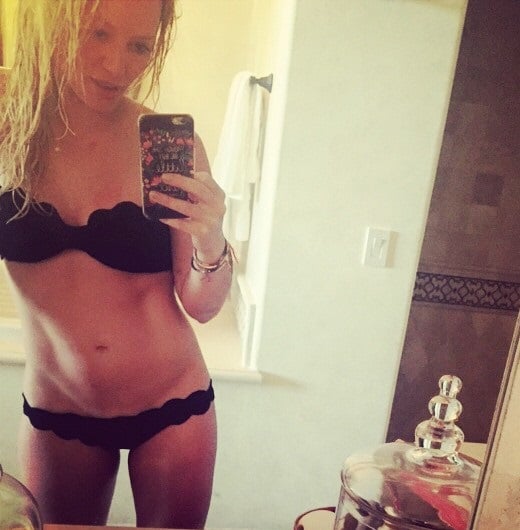 ---
Former Disney star Hilary Duff and 18-year-old US Olympic gymnast McKayla Maroney both posted bikini photos to their Instagram accounts over the weekend.
As you can see in the photo above, Hilary Duff's bikini selfie is nothing more than a pathetic attempt to regain the spotlight by a washed-up over-the-hill former child star. Though Hilary does have surprisingly tight abs for a woman of her advanced age, she is going to have to do more than just nearly showing her vagina in low cut bikini bottom if she wants to be relevant again, as the infidel public has the attention span of a retard in a shiny objects store.
Unlike Hilary Duff US Olympic gymnast McKayla Maroney posted her bikini selfie on Instagram for a good cause, as she is trying to sell off her little sister. I don't know how many dinars 100 °F converts to, but it appears to be a fair price for the girl if McKayla will guarantee that her maidenhead is still intact. McKayla is obviously a caring and loving big sister, who did the right thing by bringing her little sis to the attention of millions of online strangers with this provocative bikini photo.