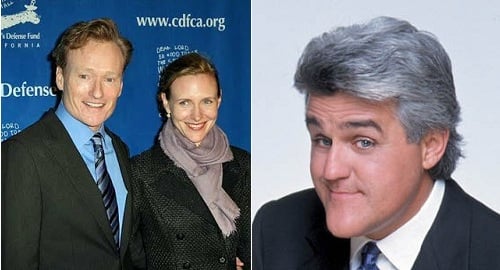 ---
In an effort to boost sagging ratings, Jay Leno will bang Conan O'Brien's wife when his show returns to the 11:30 pm time slot after the Winter Olympics. NBC executives have confirmed that Leno will bang Elizabeth Powell, O'Brien's wife of over seven years and the mother of his two children, for a half hour. After the initial 30 minutes, O'Brien will then step in to finish her off.
Jeff Gaspin, chairman of NBC Universal Television, told reporters that the move was designed to keep both stars at NBC.
"My goal right now is to keep Jay and Conan as part of our late-night lineup," Gaspin said. "And I really think this will help accomplish my goal."
Added Gaspin, "This is a good idea."
Gaspin added that while Jimmy Fallon will not participate, he will be allowed to masturbate in the corner provided he does not start until 1:05 am.