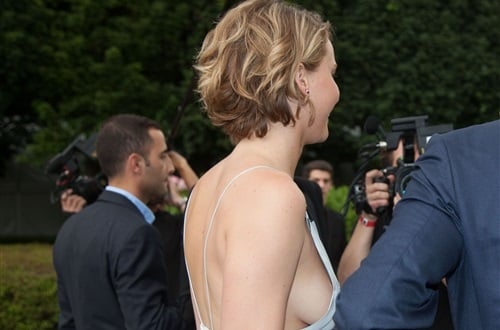 ---
As you can see in the photos below, Academy Award winning actress Jennifer Lawrence showed up to the start of Paris fashion week with her tit hanging out the side of her dress.
Despite the Zionists in heathen Hollywood best efforts to portray Jennifer Lawrence as some sort of glamorous role model, the fact that she is nothing but white trash from Kentucky is still glaringly evident. This fact is especially apparent when Jennifer shows off her side boob with no bra at what was supposed to be a classy high society event.
Yes Jennifer Lawrence's gratuitous side boob in these pictures prove that she belongs back in the holler, living in a trailer, drinking moonshine, and smoking meth while she yells at her litter of bastard "Mountain Dew mouth" stricken children to scour the local highway for some roadkill coon to fry up for dinner.