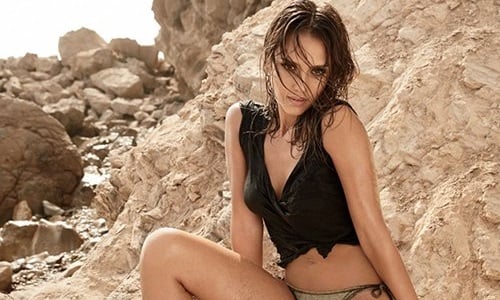 ---
Jessica Alba covers the upcoming September 2014 issue of Maxim magazine.
Despite the magazine's cover promising that Jessica Alba will seduce readers, her pictures inside are utterly unseductive. As you can see in the photos below, this Maxim photo shoot features a wet Jessica Alba lazing about on some rocks while in a boring beige bikini.
Only in the degenerate US of A would photos of an old wetback whore taking a siesta in the dessert be called seductive. The only thing that would make these Jessica Alba Maxim pictures seductive to us Muslim men is if the liquid covering her was gasoline, and instead of laying on rocks Jessica Alba was getting pelted by them.