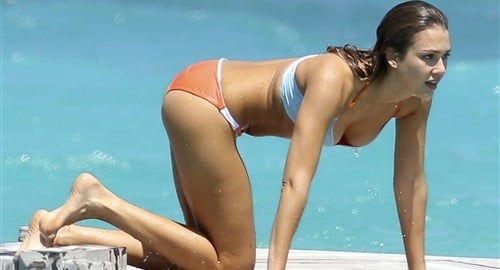 ---
Jessica Alba shows that she still has "it" in the bikini pictures below.
Of course by "it" I mean a shameless desire to prostitute her nearly nude body. Jessica Alba is clearly still an immoral strumpet with hard nipples, a perfectly flat stomach, and tight round ass… it is sickening!
These Jessica Alba bikini pictures are so outrageous that they have caused my mighty tunic snake to grow rigid with indignation. It is just a shame that Jessica Alba's husband is an effeminate homoqueer, because Jessica is in desperate need of a severe flogging for this brazen bikini display.