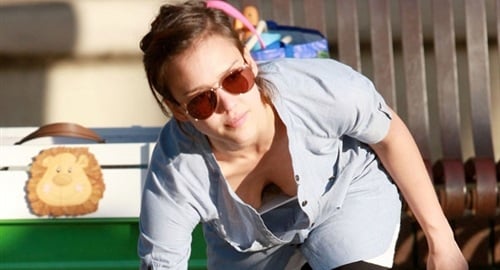 ---
Jessica Alba proves once again that motherhood has not changed her whore like ways, and its only impact on her has been saggier breasts.
How I pity Jessica Alba's child. Imagine having a mother that walked around in a revealing top like that, bent over so her bosom dangles for all to see. How much shame must that child feel? How much happier would he be if Jessica wore a motherly burka instead of dressing like a street walker?
Jessica Alba has got to realize that now that her loins have been soiled by birthing a non Muslim child, no one is interested in what little sex appeal she has left no matter much cleavage she sticks in our face. She is just bringing shame to her family with these pathetic attempts to draw attention to herself.