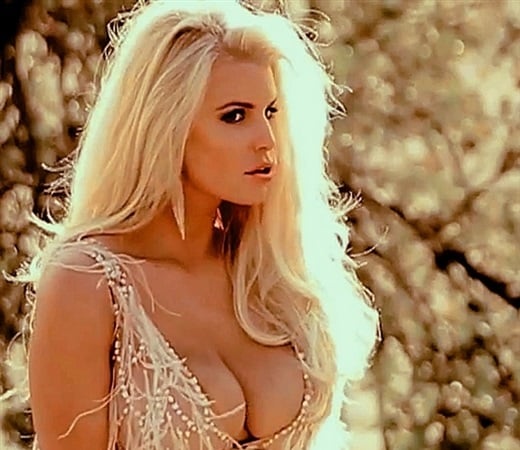 ---
As you can see in the stills below from Jessica Simpson's new advertisement for her "signature" fragrance, Jessica is using her big tits to try and sell perfume.
Why seeing Jessica Simpson's enormous udders will make the infidels want to smell like tuna water, burnt popcorn, and Nick Lachey is beyond comprehension. However, Jessica Simpson clearly knows what she is doing as her net worth is upwards of 150 million dollars, mainly thanks to her marketing of her line of crappy Chinese products to brain dead American consumers.
Yes Jessica Simpson clearly has her finger on the pulse of the American consumer, so if she thinks that her busty bosom will sell perfume then it probably will. Of course the fact that someone like Jessica Simpson has such control over the wants and desires of the American public speaks volumes about its degenerate nature. When Islam finally conquers the US of A Jessica's tits will be turned into a fine camel satchel, and serve as a sobering reminder of the depths of depravity humans are capable of when not under the firm hand of holy Islamic rule.