The following is the transcript of a recent conversation between John McCain and the father of Sarah Palin's illegitimate granddaughter, Levi Johnston.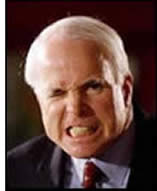 Levi. Mind if I call you Levi? Wait; don't answer that. Truth is I don't give shit, you little fuck. I'll be damned if some stupid fucking teenager who can't figure out how to use a rubber is going to cost me the presidency!
You see son, when you knocked up my VP's daughter, she wasn't the only one you were fucking. No, sir; you were also fucking John McCain! And let me tell you something, I don't like to be fucked by anybody but Mrs. McCain, and not even her so much these days. So let's get one thing clear right fucking now: you're gonna make this up to me. You're gonna marry that little whore!
They say that half these Alaskan whores have TB, and the other half are MY RUNNING MATE'S DAUGHTER. You should have only fucked the ones that cough, Levi.
My staff has been crunching some numbers, and it turns out people, especially Republicans, don't like unwed mothers. Therefore, I don't like unwed mothers. Therefore, that little whore needs a husband. Guess what, junior, you're it!
You look like you're unhappy? Well, there is another way. My staff has been crunching some other numbers, and it turns out people just love widowed mothers! They especially like war widows, and I can have your ass in Baghdad in 18 hours. I'm a senator! I can do that.
Or maybe I'll just off you myself. That's right; don't think for one fucking second that I won't! Just because I can't lift my arms above my head doesn't mean I can't shove my dick down your throat and skull fuck you to death. I'm John fucking McCain!
Did you just call me a fag, son? I thought the same thing about you when I heard your name was Levi. But, judging from the cans on Palin's daughter, I'd have to guess that you're no fairy. Come to think of it, I knew a Levi back in 'Nam, and he couldn't keep it in his pants either. Some VC slut ended up getting him drunk and cutting his dick clean off. She just left it for the mother loving rats. And the same thing's gonna happen to you if you don't marry that god damn whore.
And I'll tell you what else you're gonna do – you're gonna take down your goddamn Myspaces pages, whatever the fuck those are. My staff tells me you've got some really stupid shit up there? Just look at this garbage…
I'm a fuckin' redneck who likes to snowboard and ride dirt bikes. But I live to play hockey.
You live to play hockey, eh? Well, you sure did slip one past the goalie, didn't you? You red neck piece of shit. Jesus H. Christ!
I like to go camping and hang out with the boys, do some fishing, shoot some shit and just fuckkin' chillin' I guess.
You know son, when I was your age I liked to hang out with the boys and shoot some shit too. The only difference is that the shit you and your cheese-dick friends shoot at doesn't shoot back! Has an elk ever shot you out of the sky when you were at 10,000 ft? I didn't fucking think so.
Ya fuck with me I'll kick ass.
Well son, here I am. I'm fucking with you. Are you gonna kick ass? Well, are ya? I didn't think so. What? You gonna cry? Huh? Baby, gonna squirt a few?
You make me sick. Pull yourself together. You're about to get engaged. Shut up! Shut up and take the pain! Take the pain!
What? It's not fair?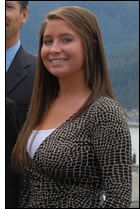 You wanna talk about not fucking fair? I spent five fucking years being tortured by Ho Chi Minh and his no-tailed baboons! That's not fucking fair! That moron George W. Bush stole the 2000 South Carolina Primary by convincing a bunch of hicks like yourself that I had a secret black daughter! That's not fucking fair! And is it fucking fair that now, when it's finally my turn to be president, I'm probably gonna lose because a bunch of dumb-ass college kids think it's "cool" to vote for a black guy!? The horror…the horror…
Now get in the fucking car. You're going to the convention. Your days of finger-banging ol' Mary J. Rottencrotch through her pretty pink panties are over! You're marrying her now. And you will be faithful…for at least four to eight years!
Special Thanks to Jon Mitchell