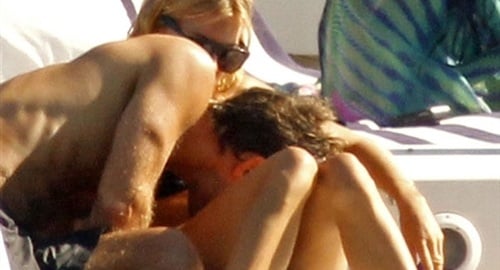 ---
Sometimes I pity you Western men. You have allowed your women to go wild, and now you are completely emasculated.
Just look at famed movie actor Jude Law in these pictures. He allows his woman Sienna Miller to run around nearly naked in a bikini, so he is forced to constantly sniff her crotch to make sure there is not another man's ejaculate inside.
If Jude Law would just man up and force Sienna Miller to dress properly in a full length burqa, then maybe he wouldn't be so paranoid about other men pillaging her stink hole.
Honestly I can not even imagine ever having to sniff my wives crotches for another man's semen because my wives respect me and they now if they ever strayed I'd chop off their nipples then burn their faces with battery acid.
Jude Law needs to be a man and stop letting Sienna Miller run around showing off her tight body in tiny bikinis because it is getting to the point were he is becoming an embarrassment to all men.