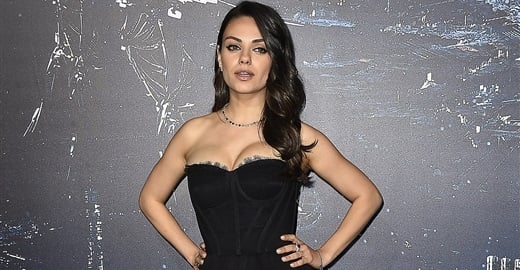 ---
After spawning Ashton Kutcher's love child (AKA the possible anti-Christ) just 3 months ago, Mila Kunis showed up to the premiere of her new movie "Jupiter Ascending" with her sloppy post-pregnancy cleavage on full display.
As a Jewess herself Mila Kunis understands what is required of her by the Zionists who run heathen Hollywood. For whenever Hollywood releases a horrible film, the movie's lead actress must whore herself at the premiere to get the depraved infidel public interested in overpaying to see the banal CGI laden piece of crap.
Unfortunately for Mila and her Hebrew buddies, throwing her stretched out saggy titties in a corset isn't going to be enough to make people want to see a movie as horrible looking as "Jupiter Ascending". Perhaps they should just edit in some scenes of Mila getting her ass pounded, and remain the film "Uranus Distending" because that is the only way they are going to break even on this cinematic monstrosity.