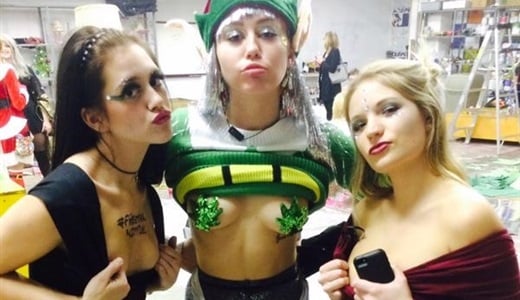 ---
As you can see in the photos below, Miley Cyrus attended the Kennedy family Christmas party in Hyannis Port in a pair of her best bedazzled marijuana leaf pasties and fancy festive silver ass floss.
There was speculation that Miley would not be invited to celebrate the Kennedy family Christmas even though she is dating Maria Shriver's son Patrick Schwarzenegger, because Maria reportedly did not approve of their relationship due to Miley's morally questionable behavior in recent years.
However, as you can see Patrick got his way and Miley Cyrus not only attended the Kennedy's bash but ended up being treated just like one of the family. In fact, by all accounts the Kennedy clan were quite smitten with Miley. Why even the usually reserved Myrtle and Gertrude Kennedy ended up posing with Miley while flaunting their cleavage for the photo above. Yes Miley Cyrus is going to fit in just fine with this gang of drunken Irish descendants of murdering bootleggers.