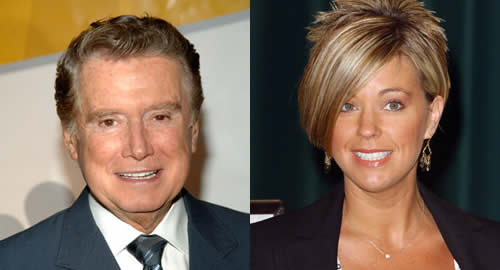 ---
Call it the case of the optimist vs. the pessimist, with Regis Philbin as Pollyanna, suggesting to Kate Gosselin on Thursday's Live! With Regis & Kelly that one of these days her estranged husband Jon is going to come home with one of his new 20-something girls and propose a three way.
"Now" said Philbin, "what do you think about that?"
"Wow," responded Gosselin, who looked as though her breath had been taken away.
After first joining in with the audience's laughter, she said about her soon-to-be-ex Jon and herself: "We definitely have different goals at this point. A lot has changed. A lot of unexpected things have come up. It's not ideal. And I can't say you're right at all."
But Philbin pressed her on the subject. If Jon were to come back tomorrow, the TV host asked, and said, "Let's put the past behind us. I want to have a three way with you and one of my much younger, more attractive girlfriends…what would you say to that?"
"I don't think I can answer that," she replied, as Philbin said she obviously needed time to think about that. Gosselin said, however, "A lot of our lives is public, but a lot is private, as well."
If the couple did have a three way, Philbin then went on to wonder, wouldn't all their marital problems go away?
"We can only go forward, we can't go back," said Gosselin. "I don't think it would all go away at his point."